In the world of custom home construction, interior finishings play a crucial role in bringing together the overall design and aesthetics of a space. These fixed and attached accents, carefully selected and thoughtfully placed, add the final touch of elegance and personality to your Vancouver custom home. In this article, we will delve into the world of interior finishings, exploring the various elements that contribute to the seamless integration of form and function in your living spaces.
Doors:
Doors are not just functional components but also architectural statements. Choose from a range of styles, materials, and finishes to enhance the character of your Vancouver custom home. From grand entrance doors to interior doors that create a cohesive flow, these accents add a touch of sophistication while maintaining privacy and delineating spaces.
Wall Treatments:
Wall treatments encompass a variety of options, such as paint, wallpaper, textured finishes, or even decorative wall panels. Each choice contributes to the overall ambiance and can transform a plain wall into a captivating focal point. Explore different techniques and materials to infuse your Vancouver custom home with the desired atmosphere, whether it be modern, rustic, or timeless elegance.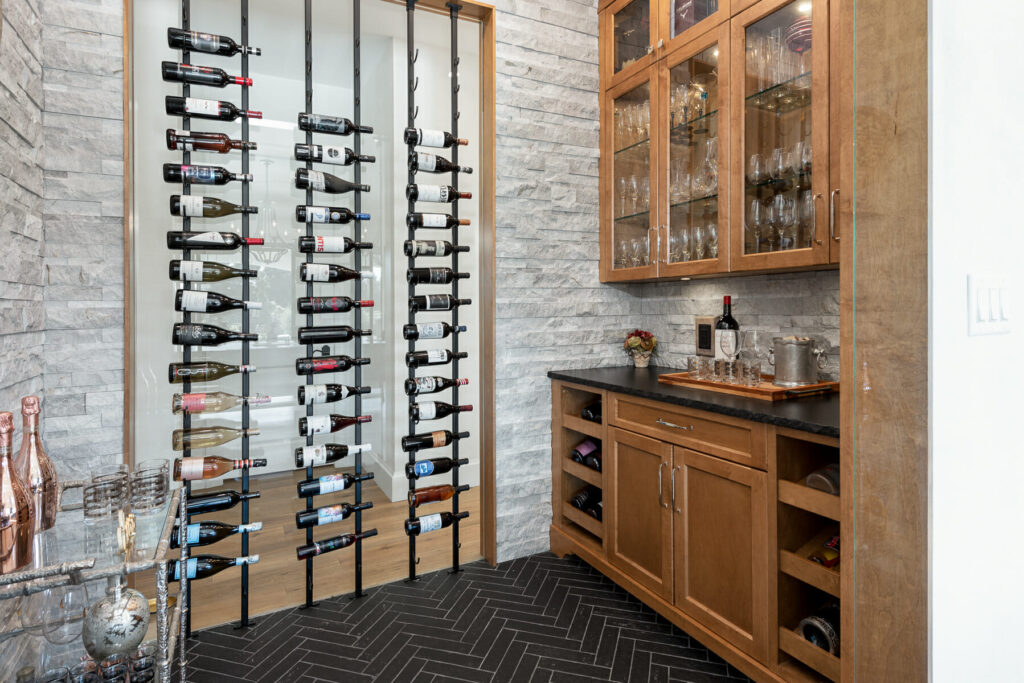 Lighting:
Lighting serves both functional and aesthetic purposes, allowing you to set the mood and highlight architectural features. Consider a combination of ambient, task, and accent lighting to create layers of illumination throughout your custom home. Chandeliers, pendant lights, sconces, and recessed fixtures can add a touch of luxury and enhance the overall design scheme. 
Shelving:
Custom shelving provides an opportunity to showcase your personal style while providing storage and display space. Incorporate built-in bookcases, floating shelves, or display niches to curate your collections, display artwork, or create functional storage solutions. These additions contribute to the overall aesthetic and organization of your Vancouver custom home.
Cabinets and Countertops:
Cabinets and countertops are essential components of any home, blending functionality with design. Opt for custom-made cabinetry that reflects your style and fits seamlessly into your space. Pair it with stunning countertops crafted from natural stone, quartz, or other high-quality materials to create a striking visual impact in your kitchen, bathrooms, and other areas.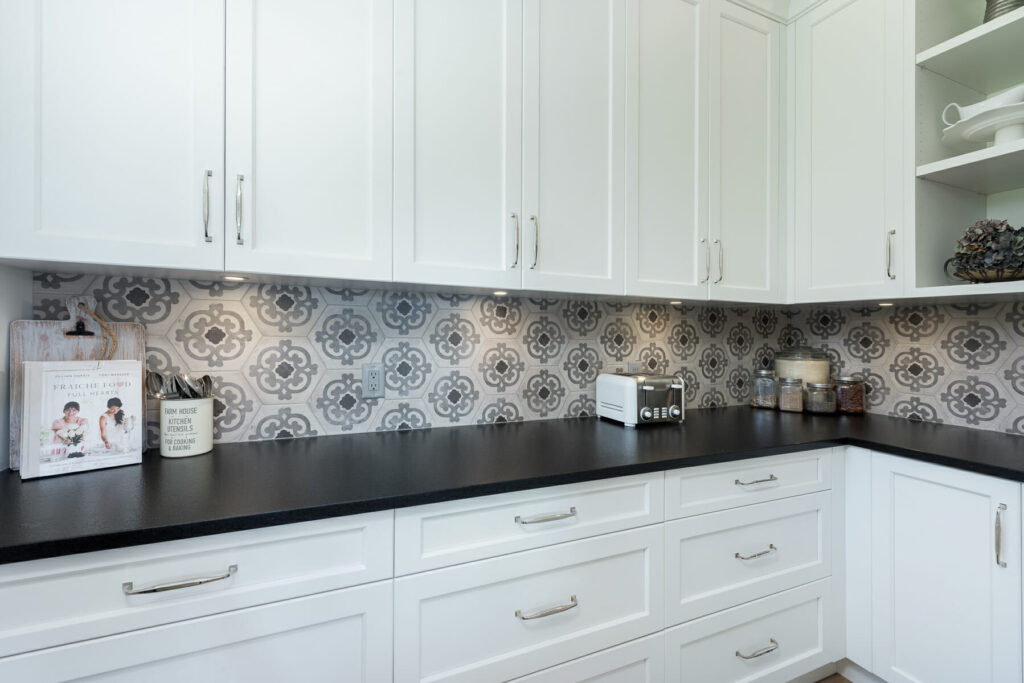 Floor Coverings:
From hardwood and tile to luxurious carpets or area rugs, floor coverings contribute to the comfort and visual appeal of your custom home. Select flooring options that complement your design aesthetic and lifestyle while ensuring durability and ease of maintenance. 
Crown Moulding, Columns, and Paneling:
These architectural details add depth, elegance, and character to your living spaces. Crown moulding frames the junction between walls and ceilings, while structural or decorative columns can create visual interest and define areas. Paneling, such as wainscoting or beadboard, adds a timeless charm to your Vancouver custom home.
Chair Rails:
Chair rails serve both decorative and practical purposes, protecting walls from damage while adding a touch of elegance. Choose from a variety of styles and finishes to complement the overall design concept of your custom home.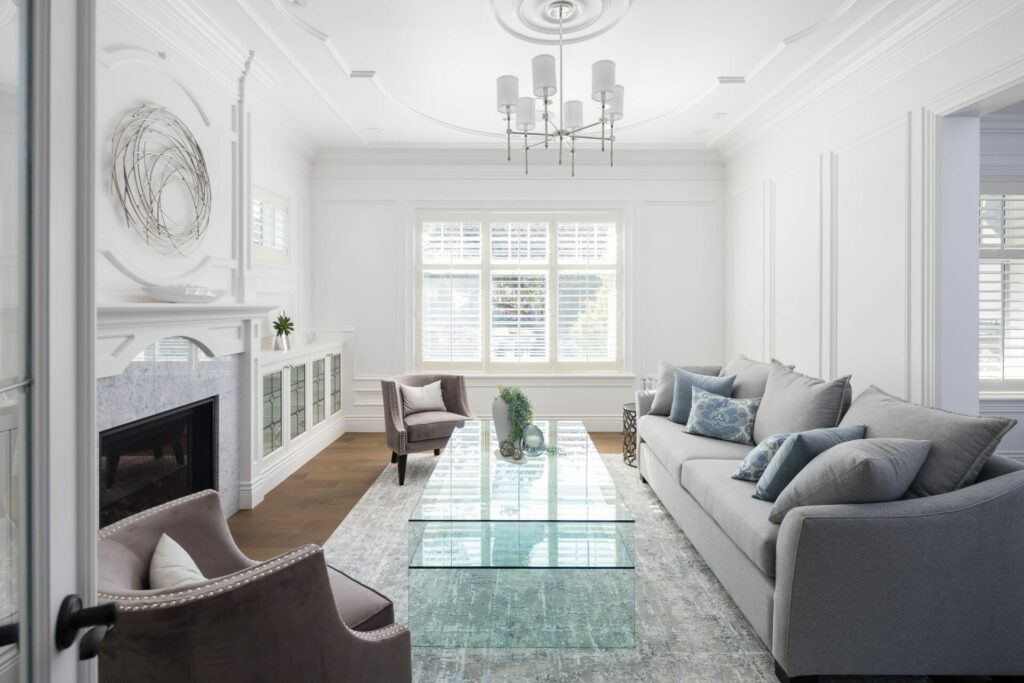 Interior finishings are the final brushstrokes that transform a house into a home, adding warmth, character, and personalization to your custom home. From doors and wall treatments to lighting, shelving, cabinets, countertops, floor coverings, crown moulding, columns, paneling, and chair rails, each element contributes to the overall aesthetic and functionality of your living spaces. Embrace the opportunity to select and incorporate these exquisite interior finishings, tailoring them to your unique vision and creating a space that truly reflects your style and enhances your lifestyle. 
At Versa Homes, we believe that building a custom home is a personal and transformative experience. From the initial stages of ideation to the final finishing details of your custom home, and even beyond, we are committed to providing exceptional client service and ensuring a seamless journey for our clients. Our dedicated team will be with you every step of the way, ensuring that your vision is brought to life with meticulous attention to detail and exquisite craftsmanship.
We understand that your custom home is more than just a house; it's a reflection of your unique style and a sanctuary for you and your family. Even after your home is complete, we are here to provide ongoing support and care, ensuring your peace of mind. If you're ready to embark on the journey of creating your dream home, we invite you to contact Versa Homes today. Let us guide you through the process and make your vision a reality that will exceed your expectations.